Critical Illness Insurance Singapore
What Is A Critical Illness Insurance?
A critical illness insurance or major illness insurance is a policy that pays out a lump sum when first diagnosed with any of the critical illness or surgical type in the policy.
The critical illness benefit can be sold either as a stand alone policy or attached to a main policy as a rider (e.g. attaching a critical illness benefit on a whole life insurance policy).
What Are The 37 Critical Illness Definition?
Since July 2003, Life Insurance Association (LIA) Singapore standardises critical illness definition to make critical illness coverage more consistent and transparent to the whole insurance industry. This means that all insurers will have to comply to the same definition for all their critical illness benefits in Singapore.
When it was first introduced in July 2003, it covers a maximum of 30 critical illnesses out of the 37 severe critical illnesses in accordance to the list of standardised common definitions.
However, from August 2014, LIA has reviewed and announced changes to the Critical Illness framework. The revised and updated critical illness definition covers 37 critical illness benefits.
In addition, insurers are allowed to offer critical illness policies covering beyond the 37 critical illnesses. They are not restricted on how many stages or what the stages of illness progression to be covered by the insurers.
Therefore, insurers do provide early stage critical illness insurance policies to allow further enhancement to their critical illness coverage.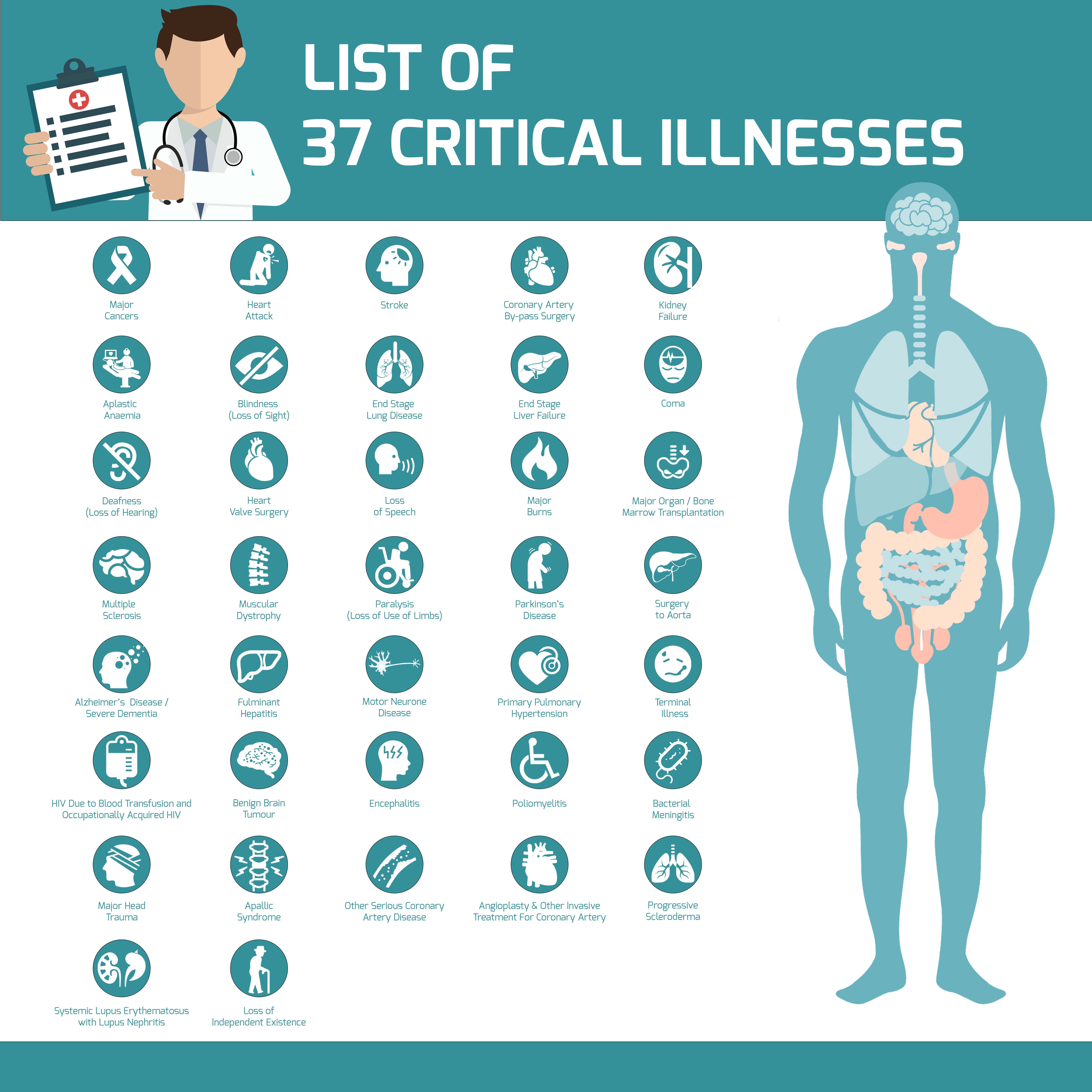 The standard list of 37 critical illnesses are:
Major Cancers
Heart Attack of Specified Severity
Stroke
Coronary Artery By-pass Surgery
Kidney Failure
Aplastic Anaemia
End Stage Lung Disease
End Stage Liver Failure
Coma
Deafness (Loss of Hearing)
Heart Valve Surgery
Loss of Speech
Major Burns
Major Organ / Bone Marrow Transplantation
Multiple Sclerosis
Muscular Dystrophy
Parkinson's Disease
Surgery to Aorta
Alzheimer's Disease / Severe Dementia
Fulminant Hepatitis
Motor Neurone Disease
Primary Pulmonary Hypertension
HIV Due to Blood Transfusion and Occupationally Acquired HIV
Benign Brain Tumour
Viral Encephalitis
Bacterial Meningitis
Angioplasty & Other Invasive Treatment For Coronary Artery
Blindness (Loss of Sight)
Major Head Trauma
Paralysis (Loss of Use of Limbs)
Terminal Illness
Progressive Scleroderma
Apallic Syndrome
Systemic Lupus Erythematosus with Lupus Nephritis
Other Serious Coronary Artery Disease
Poliomyelitis
Loss of Independent Existence
You may visit LIA website for the full and detailed standard definition for severe stage of 37 critical illness.
Why Do I Need Critical Illness Insurance Coverage When I Have A Health Insurance From Medisave And Medishield Life?
Having a health insurance or hospitalisation insurance, like Central Provident Fund (CPF) Medishield Life and CPF medisave account, is essential when a person is diagnosed with critical illness, for example, cancer diseases.
The purpose of health and hospitalisation coverage is to make sure that in the event that the person requires medical treatment, it can safeguard against medical and healthcare costs due to an accident, illness or disability.
However, the critical illness insurance policy is to cover for the income loss upon diagnosis of a critical illness.
Some questions that you would like to ask yourself is:
Do you think you are able to work when you are diagnosed with a critical illness?
If you are not able to work, how are you going to take care of your dependents and continue to pay for your financial liabilities (e.g. your housing loan, your growing children)?
How long do you think you will recuperate from your illness?
Do you want your loved ones to take on additional jobs just to make sure that the family does not runs into financial burden because you are diagnosed with critical illness?
Therefore, it is essential to have both health insurance and critical illness insurance to make sure that both your medical treatment or healthcare costs are covered and income loss due to critical illness are insured adequately.
How Much Critical Illness Coverage Do I Need To Buy In Singapore?
In order to understand how much critical illness coverage you need to buy, we need to understand how long (in years) do you want to cover yourself for your income loss upon diagnosed with critical illnesses.
General rule of thumb: Covers for at least 5 years and above.
With the use of the critical illness insurance calculator, you will be able to know how much sum assured you need for your critical illness insurance policy.
Critical Illness Insurance Calculator
Is Early Stage Critical Illness Insurance Necessary In Singapore?
In our opinion, early stage critical illness insurance policies are vital to a holistic critical illness insurance coverage.
Just think about this:
If today, you bought a critical illness insurance policy and diagnosed with cancer (whether or not, it is early stage or end stage), do you expect to get a payout from your insurance policies?
If you don't, do you feel "cheated" for not having a payout upon diagnosed with cancer?
Now more about understanding the facts:
Having an early stage critical illness policy allows you to cover for both, early stage critical illnesses and end stage critical illnesses (covered under the 37 critical illness). Upon diagnosed with severe or end stage illnesses, this policy also pays out the lump sum in full as well.
It is like "one stone, kills two bird".
With this additional critical illness coverage,
It helps to fill the gap and cover more areas of the diseases.
Gives you additional end stage critical illnesses coverage
Therefore, we strongly encourage anybody to understand more about early stage critical illness insurance to have a more complete and comprehensive approach to your illness coverage.
Which Is The Best Critical Illness Insurance In Singapore?
There are various insurers like NTUC Income, Prudential, AXA, AIA, Great Eastern (GE) , AVIVA, Manulife and other insurers that provide comprehensive critical illness insurance policies.
As established earlier that the 37 critical illness definition is same throughout all insurers in Singapore, so the question will be which insurer provide the cheapest and most affordable premiums for their critical illness insurance.
If you would like to know more about the best critical illness insurance policies, kindly proceed to leave your details below so that we can get in touch with you.
How Do I Buy A Critical Illness Insurance Plan?
You may leave your details and your contact with us so that we could get in touch with you to make sure that your worries are all fulfilled.
About Financialogy
Financialogy is a website that promotes the importance of comprehensive financial planning in Singapore.
Our licensed financial planner are equipped with up-to-date insurance knowledge especially in the area of critical illness and early stage critical illness insurance coverage.
Our competent and professional insurance specialist understand all your worries and help you to safeguard against financial burden upon diagnosed with a critical illness in Singapore.
Want To Know More About Critical Illness Insurance?
If you would like to know more about critical illness insurance, you may contact us at (+65) 9380 2839 or you can click on the button below to enquire about the different financial services that we provide.
Products & Services
Useful Information
About Us
We are a licensed and certified Financialogist in Singapore that provides a comprehensive financial planning solutions to meet all your financial and insurance protection needs.
Contact Information
Address: 47 Scotts Road, Goldbell Towers, Singapore 228233
Contact Number: +65 9380 2839 
There's difference between cancer insurance plan and critical illness insurance. Make sure you continue reading and don't make the mistake! Cancer Insurance Plan Vs. Critical Illness Insurance Critical illness insurance covers list of 37 critical illnesses...
read more
It is frustrating when you are diagnosed with high blood pressure or cholesterol, insurance companies no longer want to cover you.You are no longer eligible to purchase anymore new policies. I have a good news for you!There's a company that still want...
read more