Endowment Plans Singapore
What is An Endowment Plan Or Savings Plan?
Endowment plans commonly known as savings plans is an insurance policy that helps you to accumulate wealth given a period of time (usually 10,15, 20 or 25 years) and gives potentially higher returns from the capital amount that you invest. The return of investment are projected. The saving plans will usually have insurance coverage of basic sum assured for death and disability benefit. You have a choice of adding different riders to your policy if you would like to have additional insurance coverage (e.g. early stage critical illness insurance rider or critical illness insurance rider) during the policy period. During maturity or end of policy term, the policy will pay the maturity benefit or the death benefit (if death happens during the term of the policy).
Why Purchase Endowment/Savings Plans?
There are various benefits when purchasing an endowment/ savings plans.
Insurance coverage during the term period
Discipline savings
Potentially higher returns compared to leaving the money in the normal bank account
Fulfilling a financial goal (e.g. retirement, children education)
Choice of adding riders (e.g. critical illness insurance riders, personal accident rider)
If the endowment policy is for juvenile, parents have assurance that the child will still inherit the amount if unforeseen circumstance happen (e.g. pre-mature death, unexpected disability, strike with critical illness)
Waiver of premium benefit
There are various reasons why consumer would like to purchase an endowment policy, and we strongly encourage consumers to take a longer term view horizon when purchasing an endowment policy. If you are looking for short term gain (e.g. 1-2 years), endowment policies might not be the right financial vehicle to meet your financial goal. And if you would like to gain potential returns of 5-9% returns of investment (ROI), endowment policies might not the right instrument to meet your financial goal too. Maybe other investment plans or financial instruments with higher projected returns will be able to meet your financial goals.
Are There Short Term Savings Plan In Singapore? 
Time to time, you will see insurers coming out with short term savings plans but generally, in the market, the plans are minimumly 5 years term period. However, has mentioned earlier, there are times that some insurers might come out with shorter terms (e.g. 3 years) policies. It is still best to check with your insurer time to time again for the promotional products.
Difference Between Endowment Plans Vs. Fixed Deposits 
Endowment insurance plans are policies that gives you potentially higher returns of tenure between 5-25 years or more. The investment returns are based on company's participating fund performance and will be declared yearly. Consumers have to continously pay for the premium until maturity. Upon maturity (e.g. 25years), the maturity amount will be paid back to the policy owner. However, for fixed deposits, the tenure is usually shorter (between as short as 1 week to 48 months). The interest may be accumulated about 0.35% annually. If you pre-maturely take out the money and not wait till maturity, your capital sum will not be affected. However, for endowment policies, if you cancel or lapse the policy before maturity, you might lose the capital sum. Therefore, we strongly encourage you to understand about your risk profile and your financial liquidity before investing your monies into the different financial instruments. You may contact our financial planner to discuss the best option based on your risk profile.
Endowment Insurance Plans Comparisons
We have gathered and captured from Compare First website of some of the quotations from the different insurers. The following are the information that we have input: Gender: Male Smoker: Yes Age Next Birthday: 30 Annual Premium: $5,000 Premium Payment Term: 5 years Policy Term: 10 years And here are our findings: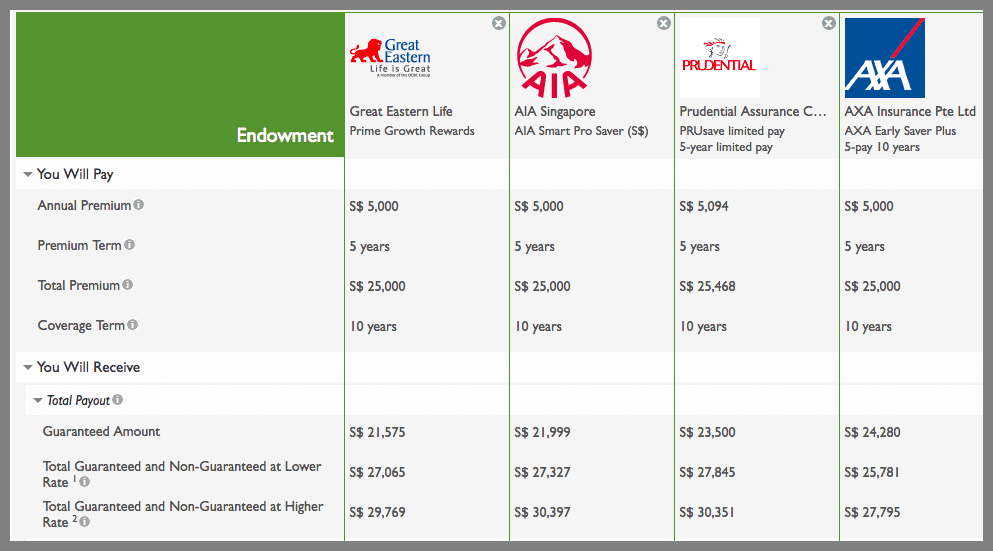 Disclaimer: The above illustration is for reference only. For full quotation and full details, please refer to the individual insurer and Compare First website for the most updated information.
How Do I Start My Savings Plans?
I'm glad that you want to start savings for your future and making sure that you have enough funds when you are older. For a start, you might want to know:
What is your budget?
Is the budget too little or too much?
How long do you want to save?
Is the time horizon too short or too long?
Is it for any specific purpose or financial objective?
Do you want to have flexibility to withdraw money?
Therefore, in order for us to address all these questions, we would highly encourage you to speak to a licensed and professional financial planner. You may contact us or leave your contact details below so that we can get in touch with you shortly to address your savings needs.
About Financialogy
Financialogy is an online platform to educate consumers about the importance of financial planning. Our competent financial planners are equipped with up-to-date industry knowledge on savings and endowment policies so that they can assist you in your savings concerns.
Want To Know More About Endowment Plan?
If you would like to know more about endowment insurance plan, you may contact us at (+65) 9380 2839 or you can click on the button below to enquire about the different financial services that we provide.
Products & Services
Useful Information
About Us
We are a licensed and certified financial planner in Singapore that provides a comprehensive financial planning solutions to meet all your financial and insurance protection needs.
Contact Information
Address: 47 Scotts Road, Goldbell Towers, Singapore 228233
Contact Number: +65 9380 2839 
It is frustrating when you are diagnosed with high blood pressure or cholesterol, insurance companies no longer want to cover you. You are no longer eligible to purchase anymore new policies.  I have a good news for you! There's a company that still want...
read more
Are you comparing between Housing Development Board (HDB)'s Home Protection Scheme (HPS) and private mortgage insurance offered by private insurers? We will provide you with the advantages and disadvantages of purchasing a private mortgage insurance with...
read more